Happy Thursday! Today, I'm excited to share a resource that I developed out of the Sword of the Spirit lesson. Since that lesson focuses on the importance of knowing and understanding God's Word, I wanted to send our kidmin kiddos home with a way to study their Bible independently. This is a free printable that you can save on your home computer and print copies whenever your child needs it. The idea is that this guide would establish a routine for studying scripture and eventually they wouldn't need the guide, but could do it on their own.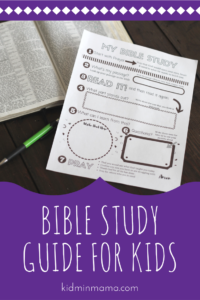 There are seven easy steps your child will follow:  
Pray

: Kids will start reading the Bible with prayer, asking God to open their minds and hearts to what He desires to teach them.

Identify the passage

: Kids will write down the passage of scripture (you might need to assist them in the beginning at choosing a passage or book)

Read

: Children will read the passage and then read it again!

What stands out

: Your child will pick part of the passage that stands out most to them.

Application

: Kids will take time to think about how this passage applies to their own lives.

Questions

: Kids will write any questions they want to come back to later or that they want to ask you, the parents.

Close in prayer

: Children will pray they can apply what they've learned, confess sins, give thanks to God and then pray for anyone they know in need.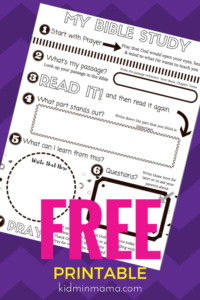 I recommend that you walk with your child through this guide the first time and then allow them to complete it independently. You can always go over their answers and questions after they finish their study. Make sure you have an age appropriate Bible for your child, a translation that is easy for them to understand.

Finally, I encourage you to do your Bible study alongside your child. Modeling is the best way for them to understand the importance of studying God's Word. Don't use your phone (how do they know you aren't on Facebook?), but get out your own Bible and study scripture together. I hope this guide helps to grow your child's walk with the Lord.
Thanks for letting me share,