It's Family Friend Friday!
I have a "tribe", as Jen Hatmaker would call it. Well, not tribe, but a Posse. Like, that's our name, "The Posse". (Yes, our friend group has a name and no, we are not in middle school.) We became, "The Posse", spring semester of our freshmen year in college and we've never looked back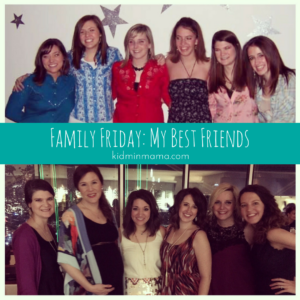 There are six of us total, Amy, Lauren, Amanda, Sarah, Meredith and Me, Jessica ( please note that these are all solid 80s names). 5 of the 6 of us lived together in college and the 6th one (Sarah) had a key to the house. We'd walk in and find her just chilling on our couch.
We are not six perfect women who have this flawless, pristine friendship. We have had our fair share of drama, roommate passive-aggressive maneuvers, hurt feelings, heartbreaks, defeats and tears, but with all those moments came beautiful ones. Posse weekend trips, tons of laughter, hilarious moments, inside jokes, celebrations of big life moments, and lots of inappropriate humor. We've cried together at funerals, been bridesmaids, celebrated births, and created the longest on-going group text probably in the world (once I didn't check my phone for an hour and had almost 100 missed texts from them).
We pray for each other, we worry about each other, and we cry over one another. Just yesterday, I held the 6th Posse baby. One we had been praying for so long. A sweet baby girl that had come out of a season of heartache, but proved to us, once again, that God is so very faithful.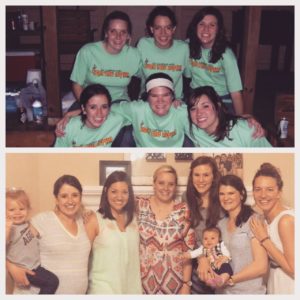 These women have become a vital part in my walk with God. They've encouraged me when I've felt like a failure and loved me even when I've treated them wrong. They've held me accountable and have asked hard questions when needed. I really can't imagine my life without them and I know they are my lifelong friends. No matter what the season, location or age, they are there for me and I am there for them.
Everyone should really have a Posse, but you just can't have mine….sorry, not sharing. Most women have some sort of bestie or crew or gal pals, but as a friend said last weekend, you need "Fristers": friends AND sisters in Christ. These are the type of women that spur you on because you are all heading toward the same goal: to be more like Jesus Christ. He's the reason our mess of people work. He's the reason we want to grow closer to God and closer with one another.
If my Posse didn't have Jesus, I'm not sure we would have made it this far. In fact, I don't know if this crew would have even got off the ground. Through Him is grace, forgiveness, reconciliation and beautiful, beautiful community. I'm so thankful for my posse and so thankful for His never-ending grace (and our never-ending group text).
Thanks for letting me share,