Happy Tuesday! I know it's still November, but I'm jumping into Christmas head first! I want to make sure and share with you all I can before the Christmas season gets into full swing so you don't miss out on fun activities with your preschooler. A great way to engage with your preschoolers at home or church, is to introduce the nativity. This is a hands-on way for your child to experience the birth of Jesus Christ and keep it as a focal point during the season. (post contains affiliate links)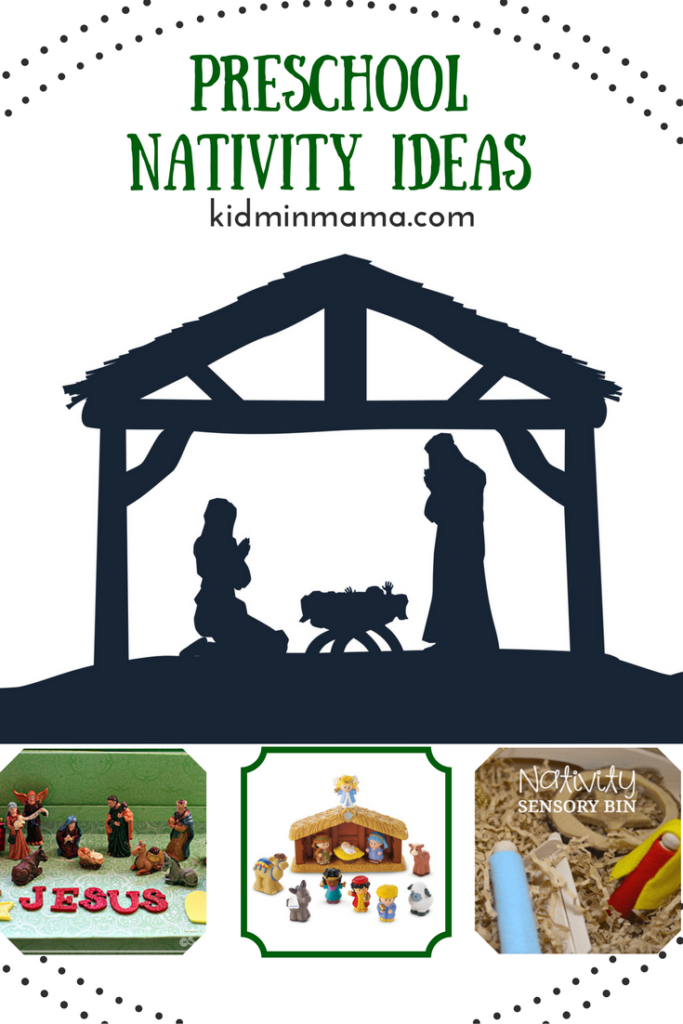 Nativity Sensory Bins
First of all, I just love sensory bins. Why? It leads to open-ended play. You give a child the pieces and they can play however they choose. They can process the Christmas Story or come up with a slew of new stories involving baby Jesus, Mary and Joseph. The story becomes real to them because they have their hands on it. They are experiencing the story as they play. Spell Out Loud's blog has a great bin using straw and nativity pieces she found at Hobby Lobby ( you can purchase similar ones here). You can make your own using a small box or shoe box. I also like that she included the letters for "Jesus" in the box as well as a few extra pieces.
Here's another nativity sensory bin from Growing Hands-On Kid's Blog. Rather than straw, she went with raffia and was a little more home-made in her approach. She made the manger out of popsicle sticks and used peg people (which I always love–remember Adam & Eve) to represent Joseph, Mary & Jesus. I really like her addition of the animals as well.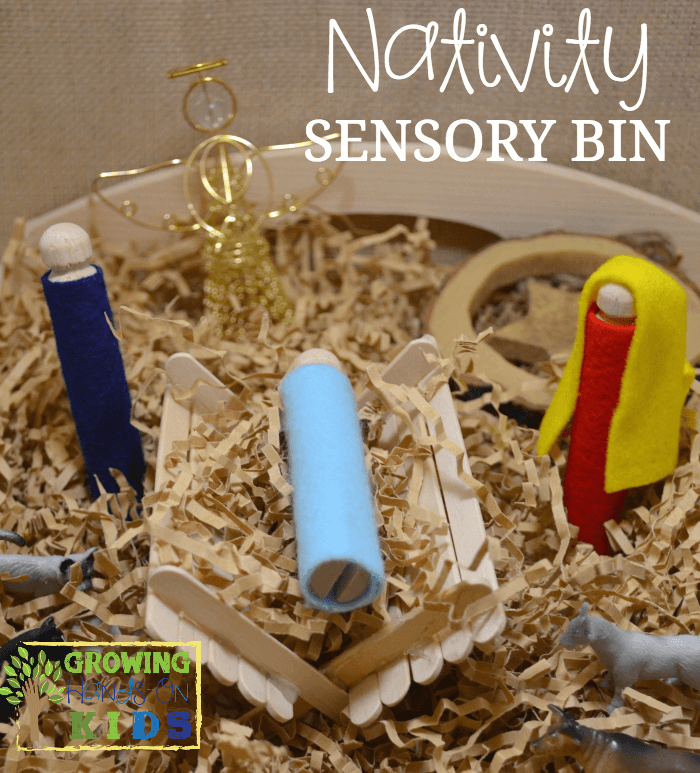 Felt Wall Nativity
I had seen felt Christmas trees for kids to add felt ornaments, but as I was browsing researching on Pinterest, I saw a felt nativity from My Crazy Blessed Life's Blog. It's super cute, but I'll warn you…it's labor-intensive. But, if you make it once, you'll have it for several years to come. What a neat display to have in your children's room or playroom for them to recreate the first Christmas over and over. If you don't have a ton of time and like the idea, you can always purchase a pre-made felt set like this one from Amazon.
Nativity Toy Sets
Finally, if you are like me with high aspirations, but at the end of the day end up just wanting to buy it, I'm sharing a few cool nativity sets I've found online. This first set is several off of Amazon's site. You can purchase them directly from the link (and it benefits my site-yay!).


Family Christian Store has them in stock and at a pretty good price right now (though I feel like these get pricier every year).
Also, Fisher Price is running a special gift set for $39.99, though I'm not sure how long that deal will run.
I hope this post helps you find the right nativity for your little one! My mom still has the one from when I was a kid and I love getting to see my girls play with it now. If you have some other great nativity ideas or links, please leave them in the comments!
Thanks for letting me share,