Happy New Year! No, you're not having deja vu, I've shared this post before, but I had quite a bit of spam comments and decided to repost hoping I would not have the same issues! This lesson goes with the "Who is Jesus" Series we did last spring. You can find all the lessons on my resource page here. This is probably my favorite series we've done. Let me know if you've used it or are planning to use it this year. Now back to the original post: 
I'm happy to share week two of the "Who is Jesus?" series today. This lesson focuses on Jesus as teacher. As with the previous lesson, children will become detectives digging into God's Word for witness accounts of Jesus as a teacher. Then, at the end they come together to reveal their findings. This series continues to build and the last teaching week talks about Jesus as our Rescuer. All printable files are at the bottom of the post and this post does contain affiliate links, which help support this site.
Welcome Question
"How did Jesus teach people in the Bible?"
Introduction
Hi everyone! We are in week two of our brand new series called, "Who is Jesus?" Last week, we all became detectives investigating who Jesus really is. Our first case was learning about Jesus as a healer. This week, we'll learn about Jesus as a teacher. Our welcome question asked, "How did Jesus teach people in the Bible?" Let's go over your answers now. (go over answers written) Jesus taught people using parables. Parables? What's a parable? Parables are stories that have a deeper meaning. Jesus' disciples even asked why he taught this way and Jesus told them in Matthew 13:13, " This is why I speak to them in parables, because seeing they do not see, and hearing they do not hear, nor do they understand." Hmmm, that's a little mysterious sounding to me. Let's open our case and see what we can gather from our evidence.
Large Group Lesson
This is Case #274, the Teacher. I have four witness accounts of Jesus teaching in Parables. Today, we're going to divide into four groups and go over our evidence. It's your job to ask the tough questions: Who? Why? When? And then report your findings to the group. This might involve you getting a little creative. Are you up to the challenge?
Jesus' Teachings Case Studies
Pass out manila folders marked "evidence" for each grade. Each small group will use their file to study scripture related to Jesus' teachings.  Give the groups time to complete their study, then bring them back for a long group recap. (if time permits, they will complete their Bible challenge at the end).
K-1: Parable of the Treasure & the Pearl, Matthew 13:44-46
1-2: Parable of the Lost Sheep and Lost Coin, Luke 15:1-10
3rd: Parable of the Good Samaritan, Luke 10: 25-37
4th: Parable of the Sower: Matthew 13:1-9, 18-23
Recap Discussion:
Allow each group to come together and share the findings from their investigations, then wrap-up the lesson.
Today we learned a lot about who Jesus is: a teacher. We asked earlier why Jesus taught this way and it was hard to understand Jesus' response: Matthew 13:13, " This is why I speak to them in parables, because seeing they do not see, and hearing they do not hear, nor do they understand." Lots of people came to hear Jesus speak. Many of them were religious leaders waiting to catch Jesus saying something they could use against him. Jesus taught a lot in parables, so that only the people really interested about the Kingdom of God and following Jesus wanted to look closer at the story and understand it (just like we did today). To everyone else it was just an interesting story. Their hearts were hardened to God and they couldn't see the true message Jesus was sharing. Jesus didn't always speak in parables, he also taught very directly throughout the Gospels.
Did Jesus' teaching talk about himself? No, it always pointed to God, the Father. In John 7:16, it says, "So Jesus answered them, "My teaching is not mine, but his who sent me." Jesus was sent by God for a special mission, to seek and save the lost. Jesus knew it was important to teach others about God's Kingdom so their hearts could be open and they could have a forever relationship with God.
Closing
It looks like we've learned a lot about Jesus as a teacher. Our investigation of "Who is Jesus?" will continue next week. I hope to see all of you super sleuths here to help carry out our mission. Let's pray.
If time remains, dismiss back to small groups for Bible Challenge. If no time remains, pass out verse cards.
Bible Challenge
Bible Challenge will only be completed if time remains after large group recap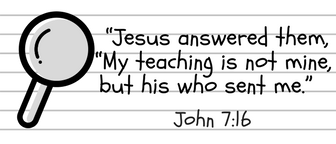 This week's Memory Verse: "Jesus answered them, "My teaching is not mine, but his who sent me."  John 7:16
Last week's verse: "He heals the brokenhearted. He bandages their wounds". Psalm 147:3
Go over this week's verse. Say it together a few times. Then transition into the Bible Challenge activity.
Bible Challenge!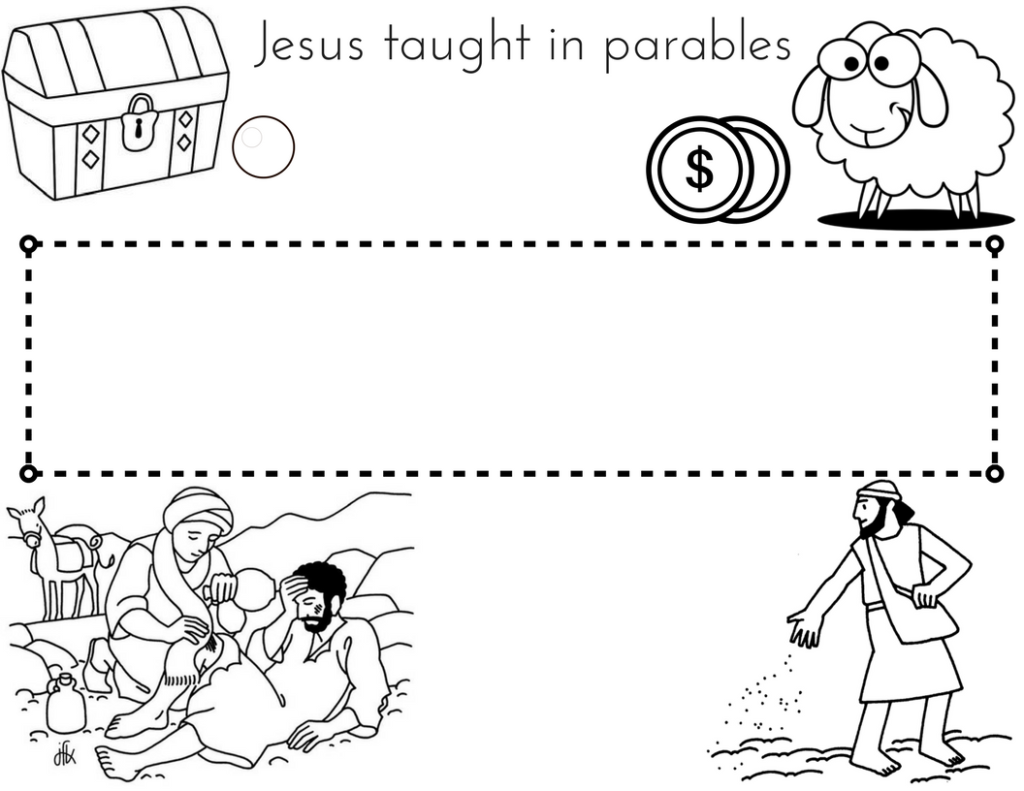 Supplies: Parable Coloring sheet, marker,  word search puzzle.
K-1 Parable Color Sheet: Help children write the verse on their sheet and then they can color each parable. Talk about the parables as they color.
2-4 Parable Word Search: Allow kids to pair up and race one another to complete the word search. The word search will include words from the memory verse. Then see if they can write the verse from memory 🙂
Prayer: Ask children if they have any prayer needs and then close in prayer.


Printable Resources
Printable Who is Jesus Teacher Lesson
Thanks for letting me share,